Airports of Russia
Information on Russian airports is more available than it has been historically, but this is partially down to third party providers as opposed to the state. The Russians do, however, publish their state AIP online (free of charge) but this only contains information on their international airports and a selected few domestic ones. Data on all the other domestic airports are still somewhat of a state secret - although not a particularly well kept one. Gathering data has also been made easier by the fact that not many new airports have been built in Russia over the last 20 years, unlike their counterparts in China. One of the few exceptions to this is Gelendzhik Airport (URKG) on the Black Sea , shown below, which opened in 2010. A second new airport has been opened, in 2013, at Talakan. The latest new airport to open (2015) is Sabetta International, which will mainly benefit workers building the massive liquefied natural gas plant.
Page last updated 10th August 2015.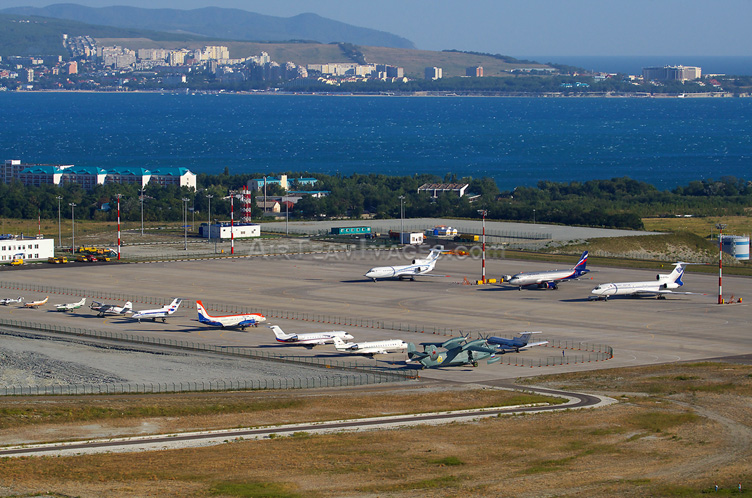 Table of Russian International and Domestic Airports
The table below draws information from numerous sources. It can be sorted by Airport Name, ICAO code, IATA Code, Elevation, LDA1/2, Latitude or Longitude by clicking on the respective column heading.
| Airport_Name | ICAO | IATA | Elev | ATIS | R/W | LDA1 | LDA2 | Appr1 | Appr2 | Beacon | PCN | # | LAT | LONG |
| --- | --- | --- | --- | --- | --- | --- | --- | --- | --- | --- | --- | --- | --- | --- |
| {Airport_Name} | {ICAO} | {IATA} | {Elev} | {ATIS} | {R/W} | {LDA1} | {LDA2} | {Appr1} | {Appr2} | {Beacon} | {PCN} | {russia4::#} | {LAT} | {LONG} |
| Airport Name | ICAO | IATA | Elev | ATIS | R/W | LDA1 | LDA2 | Appr1 | Appr2 | Beacon | PCN | # | LAT | LONG |
| --- | --- | --- | --- | --- | --- | --- | --- | --- | --- | --- | --- | --- | --- | --- |
| Abakan | UNAA | ABA | 80 | 126.20 | 02R/20L | 3250 | 3250 | C1 ILS | C1 ILS | ABK 113.30 | FB | 98 | 53.75 | 91.38 |
| Achinsk | UNKS | ACS | 1033 | | 08/26 30m | 2450 | 2450 | Visual | Visual | NZ 420 | RA | 13 | 56.27 | 90.58 |
| Aldan | UEEA | ADH | 2277 | | 06/24 35m | 1800 | 1800 | NDB | NDB | AD 451 | FD | 10 | 58.60 | 125.40 |
| Amderma | ULDD | AMV | 10 | | 07/25 | 2600 | 2600 | NDB | NDB | FW 326 | RA | 27 | 69.75 | 61.55 |
| Anadyr | UHMA | DYR | 197 | 125.40 | 01/19 | 3500 | 3500 | C1 ILS | C1 ILS | KB/UX 790 | RA | 43 | 64.73 | 177.73 |
| Anapa | URKA | AAQ | 173 | 125.40 | 04/22 | 2500 | 2500 | C1 ILS | NDB | AN/AP 443 | RB | 25 | 45.00 | 37.35 |
| Arkhangelsk Talagi | ULAA | ARH | 62 | 126.67 | 08/26 | 2500 | 2500 | C1 ILS | C1 ILS | AZ/KM 690 | RC | 44 | 64.60 | 40.72 |
| Astrakhan | URWA | ASF | 66 | 131.50 | 09/27 | 3200 | 3200 | C1 ILS | C1 ILS | AST 116.10 | RB | 60 | 46.28 | 48.00 |
| Balakovo | UWSB | BWO | 95 | | 03/21 42m | 2507 | 2507 | Visual | Visual | BW/LW 375 | RA | 25 | 51.85 | 47.75 |
| Barnaul | UNBB | BAX | 837 | 129.70 | 06/24 | 2500 | 2850 | C1 ILS | C1 ILS | AR/BU 428 | RB | 44 | 53.37 | 83.55 |
| Batagay | UEBB | BTG | 696 | | 05/23 | 2000 | 2000 | NDB | NDB | ZA 375 | AUW | 61000 | 67.63 | 134.68 |
| Begishevo | UWKE | NBC | 643 | 134.20 | 03/21 | 2506 | 2506 | NDB | C1 ILS | NA/NK 370 | RC | 44 | 55.57 | 52.10 |
| Belaya Gora | UESG | BYG | 118 | | 07/25 | 1800 | 1800 | Visual | Visual | | AUW | 61000 | 68.55 | 146.22 |
| Belgorod | UUOB | EGO | 735 | | 11/29 | 2300 | 2300 | NDB | C1 ILS | AN/BX 718 | FD | 30 | 50.63 | 36.58 |
| Beloyarsky | USHY | BLR | 82 | | 16/34 | 2142 | 2142 | C1 ILS | NDB | IU 785 | RA | 24 | 63.68 | 66.68 |
| Belozyorsk | ULWB | | 421 | | 10/28 20m | 650 | 650 | Visual | Visual | SU 791 | None | 0 | 60.02 | 37.75 |
| Berezovo | USHB | NBB | 98 | | 05/23 | 2100 | 2100 | Visual | Visual | BB 752 | AUW | 70000 | 63.92 | 65.02 |
| Bezymyanka | UWWG | | 135 | | 02/20 | 3600 | 3600 | C1 ILS | C1 ILS | NA/ID 660 | RC | 42 | 53.22 | 50.33 |
| Blagovechensk | UHBB | BQS | 636 | 126.40 | 18/36 | 2800 | 2800 | NDB | C1 ILS | BLG 113.60 | FD | 59 | 50.42 | 127.42 |
| Bovanenkovo | USDB | | 24 | | 10/28 | 2657 | 2657 | GLS | GLS | BN 450 | RA | 62 | 70.32 | 68.33 |
| Bratsk | UIBB | BTK | 1611 | 127.20 | 12/30 | 3160 | 3160 | VOR-D | C1 ILS | BRT 113.60 | RA | 54 | 56.37 | 101.70 |
| Bryansk | UUBP | BZK | 662 | 124.20 | 17/35 | 2400 | 2400 | NDB | C1 ILS | NU/OD 325 | RB | 24 | 53.20 | 34.17 |
| Bugulma | UWKB | UUA | 302 | | 01/19 40m | 2000 | 2000 | NDB | C1 ILS | LB/MC 325 | None | 0 | 54.63 | 52.80 |
| Buguruslan | UWWB | BGG | 728 | | 01/19 | 2200 | 2200 | Visual | Visual | | AUW | 100000 | 53.72 | 52.37 |
| Chara | UIAR | | 2201 | | 06/24 35m | 1800 | 1800 | Visual | Visual | | None | 0 | 56.92 | 118.27 |
| Chaybukha | UHMG | | 207 | | 06/24 | 2000 | 2000 | Visual | Visual | MA 460 | FA | 9 | 61.83 | 160.55 |
| Cheboksary | UWKS | CSY | 558 | | 06/24 | 2512 | 2512 | C1 ILS | C1 ILS | CR/LA 510 | FD | 55 | 56.08 | 47.35 |
| Chelyabinsk Balandino | USCC | CEK | 764 | 128.30 | 09/27 | 3200 | 3200 | C1 ILS | C1 ILS | LBN 113.30 | RA | 60 | 55.30 | 61.50 |
| Cherepovets | ULBC | CEE | 377 | | 03/21 42m | 2523 | 2523 | NDB | C1 ILS | FP/OW 405 | RB | 27 | 59.27 | 38.02 |
| Chita | UIAA | HTA | 2270 | 126.40 | 11/29 | 2800 | 2800 | NDB | C1 ILS | KTN 112.90 | RA | 49 | 52.03 | 113.30 |
| Chokurdakh | UESO | CKH | 151 | | 08/26 | 1600 | 1600 | NDB | NDB | LT 600 | FA | 11 | 70.63 | 147.90 |
| Elista | URWI | ESL | 499 | 126.40 | 09/27 | 2000 | 2000 | VOR-D | VOR-D | ELI 117.65 | RB | 26 | 46.37 | 44.33 |
| Ermolino | UUWE | | 640 | | 13/31 | 3000 | 3000 | C1 ILS | C1 ILS | | AUW | 210000 | 55.22 | 36.60 |
| Gelendzhik | URKG | GDZ | 302 | 134.87 | 01/19 | 3100 | 3100 | C2 ILS | Visual | GNV 114.30 | None | 56 | 44.57 | 38.00 |
| Gorno | UNBG | | | | 02/20 42m | 2300 | 2300 | Visual | C1 ILS | GO 350 | FA | 57 | 51.97 | 85.83 |
| Grozny | URMG | GRV | 525 | 127.20 | 08/26 | 2500 | 2500 | NDB | C1 ILS | WK 408 | FD | 44 | 43.38 | 45.70 |
| Igarka | UOII | IAA | 82 | 126.20 | 12/30 | 2512 | 2512 | C1 ILS | NDB-D | IGR 112.30 | RA | 17 | 67.43 | 86.62 |
| Sleptsovskaya Ingushetiya | URMS | | 1165 | | 09/27 | 3000 | 3000 | C1 ILS | NDB | SC 276 | RB | 39 | 43.32 | 45.00 |
| Irkutsk | UIII | IKT | 1673 | 126.90 | 12/30 | 3165 | 3165 | C1 ILS | C1 ILS | IRK 112.30 | RA | 45 | 52.27 | 104.40 |
| Irkutsk Northwest | UIIR | | 1470 | | 14/32 | 2500 | 2500 | C1 ILS | C1 ILS | ZP/KL 612 | RB | 31 | 52.37 | 104.18 |
| Ivanovo (South) | UUBI | IWA | 410 | 126.20 | 11/29 42m | 2504 | 2504 | NDB | C1 ILS | AL/DD 326 | FD | 53 | 56.93 | 40.93 |
| Izhevsk | USII | IJK | 531 | 126.20 | 01/19 | 2500 | 2500 | C1 ILS | C1 ILS | MD/LV 635 | RC | 44 | 56.83 | 53.45 |
| Kaliningrad | UMKK | KGD | 42 | | 06/24 | 2500 | 2500 | NDB | C1 ILS | KRD 117.05 | RC | 45 | 54.88 | 20.60 |
| Kaluga | UUBC | KLF | 656 | | 13/31 | 2200 | 2200 | NDB | NDB | KLG 114.00 | FD | 42 | 54.55 | 36.37 |
| Kazan | UWKD | KZN | 407 | 126.80 | 11L/29R | 3469 | 3724 | C1 ILS | C2 ILS | KZN 112.70 | RA | 44 | 55.60 | 49.28 |
| Kazan | UWKD | KZN | 407 | 126.80 | 11R/29L | 2498 | 2498 | Visual | Visual | KZN 112.70 | RB | 24 | 55.60 | 49.28 |
| Kazan North | UWKG | | 213 | | 11/29 | 3170 | 3170 | C1 ILS | C1 ILS | | None | 0 | 55.87 | 49.13 |
| Kemerovo | UNEE | KEJ | 873 | 128.70 | 05/23 | 3200 | 3200 | NDB | C1 ILS | NC 489 | RA | 45 | 55.27 | 86.12 |
| Keperveen | UHMK | KLM | 623 | | 09/27 | 2000 | 2000 | NDB | NDB | KE 280 | AUW | 64000 | 67.85 | 166.13 |
| Khaborovsk | UHHH | KHV | 246 | 124.87 | 05R/23L | 4000 | 4000 | C1 ILS | C2 ILS | HAB 112.30 | RA | 68 | 48.53 | 135.18 |
| Khaborovsk | UHHH | KHV | 246 | 124.87 | 05L/23R | 3500 | 3500 | NDB | NDB | HAB 112.30 | RC | 56 | 48.53 | 135.18 |
| Khanty Mansiysk | USHH | HAS | 142 | 126.40 | 06/24 | 2800 | 2800 | C1 ILS | C1 ILS | ZJ 113.80 | FB | 38 | 61.02 | 69.08 |
| Khatanga | UOHH | HTG | 98 | 126.60 | 06/24 | 2704 | 2504 | C1 ILS | NDB | OA/ZT 332 | RA | 16 | 71.97 | 102.48 |
| Kirov | USKK | KVX | 479 | 134.90 | 04/22 | 2703 | 2703 | C1 ILS | C1 ILS | XA/OR 438 | FD | 45 | 58.50 | 49.33 |
| Apatity | ULMK | KYK | 515 | | 11/29 42m | 2496 | 2496 | NDB | NDB | IO 1210 | RA | 30 | 67.47 | 33.58 |
| Kogalym | USRK | KGP | 220 | 123.40 | 17/35 42m | 2507 | 2507 | C1 ILS | C1 ILS | KG/OL 490 | RA | 25 | 62.18 | 74.53 |
| Komsomolsk | UHKK | KXK | 98 | | 18/36 40m | 2500 | 2500 | C1 ILS | C1 ILS | DP/ZL 440 | RA | 23 | 50.42 | 136.93 |
| Krasnodar | URKK | KRR | 118 | 122.45 | 05R/23L | 3000 | 3000 | C1 ILS | C1 ILS | KND 115.80 | RB | 37 | 45.03 | 39.15 |
| Krasnodar | URKK | KRR | 118 | 122.45 | 05L/23R | 2200 | 2200 | NDB | NDB | KND 115.80 | RB | 20 | 45.03 | 39.15 |
| Krasnokamensk | UIAE | KHK | 2139 | | 17/35 | 2350 | 2350 | Visual | Visual | | RB | 11 | 50.03 | 118.05 |
| Krasnoselkup | USDP | KKB | 102 | | 17/35 | 2250 | 2250 | Visual | Visual | | AUW | 61000 | 65.72 | 82.45 |
| Krasnoyarsk | UNKL | KJA | 941 | 126.80 | 11/29 | 3700 | 3700 | C1 ILS | C2 ILS | KRS 113.20 | RB | 95 | 56.17 | 92.50 |
| Kurgan | USUU | KRO | 239 | 127.20 | 02/20 42m | 2061 | 2061 | NDB | C1 ILS | UN/RD 427 | FD | 56 | 55.47 | 65.42 |
| Kursk | UUOK | URS | 686 | 127.80 | 12/30 40m | 2500 | 2500 | NDB | NDB | GE/BA 742 | RA | 22 | 51.75 | 36.30 |
| Kyzyl | UNKY | KYZ | 2116 | | 05/23 | 2700 | 2700 | NDB | NDB | KZL 112.30 | RA | 14 | 51.68 | 94.40 |
| Lensk | UERL | LSK | 801 | | 07/25 | 2000 | 2000 | NDB | NDB | IG 678 | AUW | 70000 | 60.72 | 114.82 |
| Lipetsk | UUOL | LPK | 54 | | 15/33 | 2300 | 2300 | NDB | C1 ILS | DD/IT 815 | AUW | 60000 | 52.70 | 39.53 |
| Lukhovitsy | UUMT | LXT | 515 | | 10/28 | 3024 | 3024 | C1 ILS | C1 ILS | GW/RI 537 | AUW | 450000 | 54.90 | 39.02 |
| Magadan | UHMM | GDX | 574 | 127.40 | 10/28 | 3452 | 3452 | C1 ILS | NDB | FK/WA 375 | RA | 32 | 59.92 | 150.72 |
| Magnitogorsk | USCM | MQF | 1431 | 132.80 | 01/19 | 3250 | 3250 | C1 ILS | C1 ILS | MGR 114.10 | RB | 43 | 53.40 | 58.77 |
| Makhachkala | URML | MCX | 13 | 125.47 | 14/32 42m | 2640 | 2640 | C1 ILS | C1 ILS | MKL 113.20 | RB | 24 | 42.82 | 47.65 |
| Markovo | UHMO | MKO | 89 | | 09/27 | 2428 | 2398 | NDB | NDB | AM 668 | AUW | 65000 | 64.67 | 170.42 |
| Maykop | URKH | MKP | 679 | | 13/31 | 2600 | 2600 | NDB | NDB | MA/AK 682 | RC | 23 | 44.68 | 40.03 |
| Milkovo | UHPM | MLK | 410 | | 06/24 | 2750 | 2750 | Visual | Visual | MW 592 | None | 0 | 54.68 | 158.55 |
| Mineralnyye Vody | URMM | MRV | 1053 | 127.40 | 12/30 | 3900 | 3900 | C2 ILS | C1 ILS | MNW 117.10 | RC | 48 | 44.23 | 43.07 |
| Mirny | UERR | MJZ | 1155 | 126.60 | 06/24 | 2800 | 2800 | NDB | C1 ILS | DEM 113.80 | RA | 45 | 62.53 | 114.03 |
| Moma | UEMA | MOM | 656 | | 16/34 | 1800 | 1800 | Visual | Visual | | AUW | 100000 | 66.45 | 143.27 |
| Moscow Domodedovo | UUDD | DME | 587 | 128.30 | 14R/32L | 3500 | 3500 | C3 ILS | C1 ILS | DMD 113.30 | RA | 57 | 55.40 | 37.90 |
| Moscow Domodedovo | UUDD | DME | 587 | 128.30 | 14L/32R | 3794 | 3794 | C1 ILS | C3 ILS | DMD 113.30 | RC | 78 | 55.40 | 37.90 |
| Moscow Sheremetievo | UUEE | SVO | 626 | 125.12 | 07R/25L | 3700 | 3700 | C3 ILS | C1 ILS | MR 114.60 | RC | 64 | 55.97 | 37.42 |
| Moscow Sheremetievo | UUEE | SVO | 626 | 125.12 | 07L/25R | 3550 | 3550 | C1 ILS | C3 ILS | MR 114.60 | RB | 64 | 55.97 | 37.42 |
| Moscow Vnukovo | UUWW | VKO | 686 | 131.85 | 01/19 | 3060 | 3060 | C1 ILS | C2 ILS | WNK 113.70 | FD | 105 | 55.60 | 37.28 |
| Moscow Vnukovo | UUWW | VKO | 686 | 131.85 | 06/24 | 3000 | 3000 | C1 ILS | C2 ILS | WNK 113.70 | RA | 34 | 55.60 | 37.28 |
| Murmansk | UULM | MMK | 266 | 127.40 | 14/32 | 2500 | 2500 | C1 ILS | C1 ILS | PF/RD 635 | RB | 29 | 68.78 | 32.75 |
| Mys Kamennyi | USDK | MKM | 98 | 128.70 | 15/33 | 2460 | 2460 | NDB | NDB | ZL 372 | AUW | 61000 | 68.48 | 73.57 |
| Mys Shmidt | UHMI | MSD | 20 | | 14/32 | 1500 | 1500 | NDB | NDB | TJ/WJ 891 | RA | 11 | 68.87 | -179.37 |
| Nadym | USMM | NYM | 49 | 125.90 | 14/32 | 2548 | 2548 | C1 ILS | C1 ILS | NO/PZ 485 | RA | 26 | 65.48 | 72.70 |
| Nalchik | URMN | NAL | 1460 | | 06/24 | 0 | 2200 | N/A. | C1 ILS | NL 718 | FC | 45 | 43.52 | 43.63 |
| Naryan-Mar | ULAM | NMN | 36 | 126.20 | 06/24 40m | 2500 | 2500 | NDB | C1 ILS | NRM 112.30 | AUW | 80000 | 67.63 | 53.12 |
| Nefteyugansk | USRN | NFG | 115 | | 17/35 | 2720 | 2720 | Visual | LLZ | S/Z 1035 | RB | 58 | 61.10 | 72.65 |
| Neryungri (Chulman) | UELL | NER | 2812 | 126.80 | 08/26 | 3600 | 3600 | C1 ILS | NDB | NRG 113.80 | AUW | 190000 | 56.98 | 124.92 |
| Nikolayevsk na Amure | UHNN | | | | 11/29 35m | 1700 | 1700 | NDB | C1 ILS | SA/ME 394 | FD | 13 | 53.15 | 140.65 |
| Nizhnevartovsk | USNN | NJC | 177 | | 03/21 | 3200 | 3200 | C1 ILS | C1 ILS | NJC 112.30 | RB | 54 | 60.95 | 76.48 |
| Nizhny Novgorod | UWGG | GOJ | 256 | 127.80 | 18R/36L | 2805 | 2805 | C1 ILS | C1 ILS | STR 112.90 | RA | 33 | 56.23 | 43.78 |
| Nizhny Novgorod | UWGG | GOJ | 256 | 127.80 | 18L/36R | 2509 | 2509 | NDB | NDB | STR 112.90 | RC | 29 | 56.23 | 43.78 |
| Norilsk (Alikel) | UOOO | NSK | 574 | 126.80 | 01/19 | 3430 | 3430 | C1 ILS | C1 ILS | NOR 114.20 | RA | 47 | 69.32 | 87.33 |
| Novokuznetsk (Spichenkovo) | UNWW | NOZ | 1024 | 127.60 | 01R/19L | 2680 | 2680 | NDB | C1 ILS | UF 300 | RA | 30 | 53.80 | 86.87 |
| Novosibirsk | UNNT | OVB | 364 | 131.30 | 16/34 | 3600 | 3600 | C2 ILS | C1 ILS | NSK 113.30 | RB | 76 | 55.02 | 82.67 |
| Novosibirsk | UNNT | OVB | 364 | 131.30 | 07/25 | 3600 | 3600 | C1 ILS | C1 ILS | NSK 113.30 | RC | 77 | 55.02 | 82.67 |
| Novy Urengoy | USMU | NUX | 210 | 127.20 | 09/27 | 2550 | 2550 | C1 ILS | C1 ILS | YC/ND 275 | RA | 31 | 66.07 | 76.52 |
| Noyabrsk | USRO | NOJ | 446 | 126.20 | 01/19 42m | 2509 | 2509 | C1 | NDB | UC/ZE 615 | RA | 31 | 63.18 | 75.27 |
| Nyagan | USHN | NYG | 361 | 122.70 | 16/34 | 2532 | 2532 | NDB | C1 ILS | LS/NA 298 | RA | 24 | 62.10 | 65.60 |
| Nyurba | UENN | NYR | 394 | | 08/26 | 1900 | 1900 | NDB | NDB | NT 346 | AUW | 61000 | 63.30 | 118.33 |
| Okhotsk | UHOO | OHO | 66 | | 03/21 36m | 2000 | 2000 | C1 ILS | Visual | MU/BR 483 | FD | 8 | 59.40 | 143.05 |
| Olekminsk | UEMO | | 735 | | 08L/26R | 1900 | 1900 | NDB | NDB | ON 520 | AUW | 56000 | 60.40 | 120.47 |
| Olenek | UERO | | 847 | | 18/36 | 2600 | 2600 | Visual | Visual | NL 300 | AUW | 60000 | 68.52 | 112.48 |
| Omsk | UNOO | OMS | 312 | 126.40 | 07/25 | 2500 | 2500 | C1 ILS | C1 ILS | RM/TK 332 | FC | 50 | 54.97 | 73.32 |
| Omsukchan | UHMF | OSU | 1732 | | 04/22 | 2100 | 2100 | Visual | Visual | | AUW | 61000 | 62.45 | 155.73 |
| Orel (Uzhny) | UUOR | PEL | 656 | | 04/22 | 2500 | 2500 | Visual | C1 ILS | UY 605 | FD | 27 | 52.93 | 36.00 |
| Orenburg | UWOO | REN | 387 | 126.40 | 08/26 | 2500 | 2500 | C1 ILS | C1 ILS | ORN 113.60 | RB | 41 | 51.80 | 55.45 |
| Orsk | UWOR | OSW | 909 | 125.90 | 07/25 42m | 2900 | 2900 | NDB | C1 ILS | OR/SF 385 | FC | 30 | 51.07 | 58.60 |
| Ostafyevo | UUMO | | 562 | 127.60 | 08/26 | 2050 | 1928 | NDB | C1 ILS | PS 305 | RC | 24 | 55.50 | 37.50 |
| Palana New | UH01 | | 154 | | 11/29 | 2700 | 2700 | Visual | Visual | | None | 0 | 59.07 | 159.97 |
| Pechora | UUYP | PEX | 197 | | 16/34 40m | 1800 | 1800 | NDB | NDB | PM 330 | RB | 13 | 65.12 | 57.13 |
| Penza | UWPP | PEZ | 594 | 131.50 | 11/29 | 2800 | 2100 | C1 ILS | C1 ILS | PNZ 113.80 | None | 0 | 53.10 | 45.02 |
| Perm | USPP | PEE | 404 | 126.40 | 03/21 | 3200 | 3200 | NDB | C1 ILS | PER 108.20 | RC | 55 | 57.92 | 56.03 |
| Petropavlovsk-Kamchatsky | UHPP | PKC | 131 | 126.80 | 16L/34R | 3400 | 3400 | NDB | C1 ILS | PR 535 | RA | 40 | 53.17 | 158.45 |
| Petrozavodsk | ULPB | PES | 157 | | 02/20 | 2500 | 2500 | NDB | NDB | XO/QD 340 | RA | 38 | 61.88 | 34.15 |
| Pevek | UHMP | PWE | 11 | 126.60 | 17/35 42m | 2500 | 2500 | NDB | C1 ILS | PK 560 | RA | 23 | 69.78 | 170.60 |
| Plestsy | UU02 | ARK | 427 | | 06/24 | 2600 | 2600 | Visual | Visual | RQ/SA 422 | None | 0 | 62.72 | 40.48 |
| Podkamennaya Tunguska | UNIP | | 213 | | 04/22 | 1600 | 160 | Visual | Visual | PTG 113.40 | None | 0 | 61.58 | 89.98 |
| Polyarny | UERP | PYJ | 1670 | 127.20 | 17/35 | 3100 | 3100 | NDB | C1 ILS | PLR 112.90 | RA | 25 | 66.40 | 112.03 |
| Provideniya Bay | UHMD | PVS | 71 | | 01/19 | 2000 | 2000 | NDB | NDB | BC 960 | AUW | 60000 | 64.38 | -173.25 |
| Pskov | ULOO | PKV | 154 | | 01/19 | 2000 | 2000 | NDB | NDB | PK/NP 300 | RB | 70 | 57.78 | 28.40 |
| Pugachev | UW01 | | 118 | | 16/34 32m | 2200 | 2200 | Visual | Visual | | None | 0 | 51.98 | 48.72 |
| Pushkin | ULLP | | 230 | | 03/21 | 2500 | 2500 | Visual | Visual | KD 596 | AUW | 64000 | 59.68 | 30.33 |
| Raduzhny | USNR | RAT | 249 | | 17/35 | 2720 | 2720 | C1 ILS | C1 ILS | RDV 112.30 | RB | 58 | 62.17 | 77.33 |
| Ramenskoye | UUBW | RNU | 377 | 127.75 | 12/30 | 5403 | 5403 | NDB | C1 ILS | RT 117.90 | RB | 71 | 55.55 | 38.15 |
| Rostov-na-Donu | URRR | ROV | 280 | 121.70 | 04/22 | 2500 | 2500 | C2 ILS | C1 ILS | RND 114.70 | RC | 33 | 47.27 | 39.82 |
| Saint Petersberg | ULLI | LED | 79 | 127.30 | 10R/28L | 3782 | 3782 | C2 ILS | C1 ILS | SPB 113.40 | RB | 68 | 59.80 | 30.27 |
| Saint Petersberg | ULLI | LED | 79 | 127.30 | 10L/28R | 3401 | 3401 | C3 ILS | C3 ILS | SPB 113.40 | RC | 83 | 59.80 | 30.27 |
| Sabetta | USDA | | 46 | | 04/22 | 2704 | 0 | C1 ILS | Visual | MNO 111.00 | RA | 34 | 71.22 | 72.03 |
| Salekhard | USDD | SLY | 218 | 127.80 | 04/22 | 2725 | 2725 | C1 ILS | C1 ILS | SH 113.30 | RB | 39 | 66.58 | 66.62 |
| Samara | UWWW | KUF | 479 | 134.10 | 15/33 | 3001 | 3001 | C1 ILS | C1 ILS | MOF 108.80 | RB | 36 | 53.50 | 50.17 |
| Samara | UWWW | KUF | 479 | 134.10 | 05/23 | 2548 | 2548 | C1 ILS | C1 ILS | MOF 108.80 | FD | 43 | 53.50 | 50.17 |
| Saransk | UWPS | SKX | 676 | | 02/20 42m | 2801 | 2801 | NDB | NDB | SI/GCH 505 | RA | 15 | 54.13 | 45.22 |
| Saratov | UWSS | RTW | 497 | 135.10 | 12/30 42m | 2220 | 2500 | C1 ILS | C1 ILS | IGK 113.20 | FC | 27 | 51.57 | 46.05 |
| Sarovo | UW02 | | 525 | | 02/20 | 1900 | 1900 | Visual | Visual | | None | 0 | 54.97 | 43.32 |
| Severo-Evensk | UHMV | SVE | 8 | | 03/21 | 1600 | 1600 | Visual | Visual | | AUW | 60000 | 61.92 | 159.22 |
| Shagol AFB | USCG | | 830 | | 12/30 | 2500 | 2500 | Visual | Visual | | RB | 31 | 55.25 | 61.28 |
| Sochi | URSS | AER | 86 | 126.20 | 02/20 | 2200 | 0 | C1 ILS | N/A. | ADL 112.70 | RA | 29 | 43.45 | 39.95 |
| Sochi | URSS | AER | 86 | 126.20 | 06/24 | 2810 | 0 | C1 ILS | N/A. | ADL 112.70 | RB | 63 | 43.45 | 39.95 |
| Sovetsky | USHS | SOY | 351 | | 12/30 | 2500 | 2500 | LLZ | Visual | UY 1075 | RA | 24 | 61.33 | 63.58 |
| Sovetskaya Gavan | UHKM | SOG | 768 | | 09/27 | 3000 | 3000 | Visual | Visual | | RB | 32 | 48.93 | 140.03 |
| Staraya | ULNR | | 52 | | 01/19 40m | 2000 | 2000 | NDB | C1 ILS | SR/IW 395 | RA | 29 | 57.97 | 31.38 |
| Staroselye | UUBK | RYB | 423 | | 04/22 29m | 2000 | 2450 | NDB | NDB | BW 433 | FD | 18 | 58.10 | 38.93 |
| Stary Oskol | UUOS | | 719 | | 05/23 42m | 1800 | 1800 | NDB | NDB | OL 384 | AUW | 65000 | 51.33 | 37.77 |
| Stavropol | URMT | STW | 1486 | | 07/25 | 2600 | 2600 | C1 ILS | C1 ILS | OP/KT 730 | RB | 29 | 45.12 | 42.12 |
| Strezhevoy | UNSS | STZ | 164 | | 15/33 42m | 1998 | 1998 | C1 ILS | NDB | MP 655 | RA | 14 | 60.72 | 77.65 |
| Suntar | UENS | | 436 | | 06/24 | 2000 | 2000 | Visual | Visual | | FB | 16 | 62.18 | 117.63 |
| Surgut | USRR | SGC | 200 | 124.80 | 07/25 | 2790 | 2790 | C1 ILS | C1 ILS | AM/GK 325 | FB | 56 | 61.35 | 73.40 |
| Syktyvkar | UUYY | SCW | 341 | 126.60 | 01/19 | 2500 | 2500 | C1 ILS | C1 ILS | PW/SR 345 | RB | 29 | 61.65 | 50.85 |
| Syktyvkar Southwest | UU01 | | 489 | | 17/35 | 2950 | 2950 | Visual | Visual | | None | 0 | 61.58 | 50.52 |
| Taganrog (South) | URRT | TDG | 118 | | 10/28 | 2750 | 2550 | NDB | NDB | MS/UF 720 | RB | 44 | 47.20 | 38.85 |
| Taksimo | UI01 | | 2001 | | 08/26 40m | 2000 | 2000 | Visual | Visual | | None | 0 | 56.37 | 114.93 |
| Talakan | UECT | VTK | 1322 | | 01/19 42m | 3100 | 3100 | VOR-D | C1 ILS | TRN 112.90 | RA | 51 | 59.88 | 111.05 |
| Tambov (Donskoye) | UUOT | TWB | 413 | | 15/33 42m | 2100 | 2100 | NDB | NDB | FF/XV 735 | AUW | 64000 | 52.80 | 41.48 |
| Tarko-Sale | USDS | TKS | 82 | | 02/20 | 2420 | 2420 | Visual | Visual | TS 310 | AUW | 61000 | 64.93 | 77.82 |
| Tazovsky | USDT | TZV | 92 | | 13/31 | 2420 | 2420 | Visual | Visual | GT 360 | AUW | 61000 | 67.47 | 78.70 |
| Tiksi | UEST | IKS | 36 | | 03/21 | 2750 | 2750 | NDB | NDB | KF 320 | RA | 36 | 71.70 | 128.90 |
| Tomsk | UNTT | TOF | 597 | 127.80 | 02/20 | 2500 | 2500 | NDB | C1 ILS | TX 380 | RB | 32 | 56.38 | 85.20 |
| Turukhansk | UOTT | | 106 | | 12/30 28m | 1800 | 1800 | Visual | Visual | THN 113.70 | RA | 12 | 65.80 | 87.93 |
| Tver | UUEM | KLD | 469 | | 07/25 | 2500 | 2500 | Visual | Visual | MW 449 | RA | 36 | 56.82 | 35.75 |
| Tynda | UHBW | TYD | 2001 | | 06/24 35m | 2200 | 2200 | Visual | Visual | | None | 0 | 55.28 | 124.78 |
| Tyoply Klyuch | UEMH | | 932 | | 08/26 | 1800 | 1800 | NDB | NDB | T 640 | AUW | 60000 | 62.78 | 136.85 |
| Tyumen | USTR | TJM | 344 | 121.70 | 03/21 | 3000 | 3000 | C1 ILS | C1 ILS | RN/QF 315 | RC | 63 | 57.17 | 65.32 |
| Tyumen | USTR | TJM | 344 | 121.70 | 12/30 | 2701 | 2701 | GLS | GLS | RN/QF 315 | RC | 42 | 57.17 | 65.32 |
| Ufa | UWUU | UFA | 449 | 119.40 | 14R/32L | 3760 | 3760 | C2 ILS | NDB | RG 112.30 | RA | 57 | 54.55 | 55.87 |
| Ufa | UWUU | UFA | 449 | 119.40 | 14L/32R | 2516 | 2516 | C1 ILS | C1 ILS | RG 112.30 | RB | 53 | 54.55 | 55.87 |
| Ufa Maximovka | UWUM | | 325 | | 01/19 40m | 2000 | 2000 | Visual | Visual | | FD | 26 | 54.83 | 56.17 |
| Uka | UH02 | | 10 | | 18/36 | 2200 | 2200 | Visual | Visual | | None | 0 | 57.93 | 162.02 |
| Ukhta | UUYH | UCT | 482 | 127.40 | 18/36 | 2650 | 2650 | C1 ILS | C1 ILS | UHT 113.80 | RB | 24 | 63.57 | 53.80 |
| Ulan-Ude (Mukhino) | UIUU | UUD | 1690 | 126.60 | 08/26 | 2997 | 2700 | Visual | C1 ILS | NS 718 | RA | 42 | 51.80 | 107.45 |
| Ulan-Ude (Vostochny) AFB | UIUV | | 1671 | | 08/26 | 3000 | 3000 | Visual | Visual | | AUW | 450000 | 51.83 | 107.73 |
| Ulyanovsk | UWLW | ULY | 253 | | 02/20 | 5000 | 5000 | C1 ILS | C1 ILS | UWS 113.7 | RA | 63 | 54.40 | 48.80 |
| Ulyanovsk Baratayevka | UWLL | | 463 | | 03/21 | 3828 | 3828 | C2 ILS | NDB | BMK 113.40 | RC | 44 | 54.27 | 48.23 |
| Uray | USHU | URJ | 190 | 128.70 | 18/36 42m | 2300 | 2300 | NDB | NDB | WI/PM 780 | RB | 27 | 60.12 | 64.83 |
| Usinsk | UUYS | USK | 262 | 127.90 | 14/32 42m | 2502 | 2502 | C1 ILS | NDB | YT/UL 370 | RA | 21 | 66.00 | 57.37 |
| Ust-Ilimsk | UIBS | UIK | 1339 | | 07/25 42m | 3000 | 3000 | NDB | NDB | NM 431 | RA | 35 | 58.13 | 102.55 |
| Ust-Kut | UITT | UKX | 2188 | | 12/30 | 2000 | 2000 | NDB | C1 ILS | CI 326 | RA | 39 | 56.85 | 105.72 |
| Ust-Maya | UEMU | | 561 | | 06/24 | 1900 | 1900 | NDB | NDB | MG 802 | AUW | 60000 | 60.35 | 134.43 |
| Ust-Ordynsky | UIIO | UOR | 1775 | | 12/30 | 2500 | 2500 | Visual | Visual | UO 360 | None | 0 | 52.83 | 104.72 |
| Vaskovo | ULAH | | 82 | | 12/30 32m | 2441 | 2441 | NDB | NDB | UI/WS 730 | RB | 12 | 64.45 | 40.42 |
| Velikije Luki | ULOL | VEK | 328 | | 15/33 32m | 1422 | 1422 | Visual | Visual | WKL 108.20 | FD | 33 | 56.38 | 30.62 |
| Vladikavkaz (Beslan) | URMO | OGZ | 1673 | | 10/28 | 3000 | 3000 | C1 ILS | NDB | CH/LG 1050 | RB | 22 | 43.20 | 44.62 |
| Vladivostok | UHWW | VVO | 43 | 127.80 | 07L/25R | 3500 | 3500 | NDB | C1 ILS | KN 110.60 | RB | 52 | 43.40 | 132.15 |
| Volgodonsk | URRY | VLK | 276 | | 09/27 | 2200 | 2200 | C1 ILS | Visual | WB/YAR1040 | AUW | 64000 | 47.68 | 42.07 |
| Volgograd | URWW | VOG | 482 | 125.40 | 11/29 | 2500 | 2500 | C1 ILS | C1 ILS | WGD 115.30 | FD | 44 | 48.78 | 44.35 |
| Vologda | ULWW | VDG | 387 | | 15/33 42m | 1500 | 1500 | GLS | GLS | TZ/UR 1046 | RB | 15 | 59.28 | 39.95 |
| Vorkuta | UUYW | VKT | 604 | 126.40 | 08/26 | 2200 | 2200 | C1 ILS | NDB | DW/KZ 522 | RB | 18 | 67.48 | 63.98 |
| Voronezh International | UUOO | VOZ | 515 | 120.80 | 13/31 | 2300 | 2300 | C1 ILS | C1 ILS | IWV 114.90 | RB | 41 | 51.82 | 39.23 |
| Voronezh Pridacha | UUOD | | 359 | | 03/21 | 0 | 2400 | None | C1 ILS | ZW 495 | RB | 22 | 51.65 | 39.25 |
| Vyazma | UU03 | | 794 | | 01/19 | 2000 | 2000 | Visual | Visual | | None | 0 | 55.15 | 34.38 |
| Yakutsk | UEEE | YKS | 325 | 126.20 | 05R/23L | 3400 | 3400 | NDB | C2 ILS | UTS 112.30 | RB | 45 | 62.10 | 129.77 |
| Yamburg | USMQ | YMB | 109 | | 13/31 42m | 2440 | 2440 | C1 ILS | C1 ILS | ON/MB 345 | RA | 19 | 67.98 | 75.10 |
| Yaroslavl | UUDL | IAR | 305 | 127.35 | 05/23 | 3000 | 3000 | NDB | C1 ILS | RG 315 | RC | 38 | 57.55 | 40.15 |
| Yekaterinberg | USSS | SVX | 764 | 127.80 | 08R/26L | 2950 | 2700 | C1 ILS | C1 ILS | EKB 113.20 | RB | 46 | 56.75 | 60.82 |
| Yekaterinberg | USSS | SVX | 764 | 127.80 | 08L/26R | 3004 | 2754 | C1 ILS | C1 ILS | EKB 113.20 | FD | 101 | 56.75 | 60.82 |
| Yeniseysk | UNII | | 253 | 134.20 | 17/35 42m | 2190 | 2190 | NDB | NDB | ENS 112.30 | RB | 17 | 58.47 | 92.12 |
| Yeysk | URKE | EIK | 66 | | 08L/26R 40m | 2500 | 2500 | Visual | Visual | WU/VT 687 | RB | 15 | 46.68 | 38.22 |
| Yeysk | URKE | EIK | 66 | | 08R/26L 40m | 2502 | 2502 | NDB | NDB | WU/VT 687 | RB | 15 | 46.68 | 38.22 |
| Novosibirsk Yeltsovka | UNNE | | 617 | | 01/19 | 2864 | 2864 | NDB | C1 ILS | KP 455 | RB | 22 | 55.10 | 83.00 |
| Yoshkar-Ola | UWKI | JOK | 348 | 125.90 | 16/34 | 2400 | 2400 | NDB | NDB | PZ/QYA 610 | AUW | 64000 | 56.70 | 47.88 |
| Yugarenok | UE01 | | 1001 | | 01/19 | 2000 | 2000 | Visual | Visual | | None | 0 | 59.77 | 137.68 |
| Yugorsk | US02 | | 374 | | 14/32 | 2500 | 2500 | Visual | Visual | | None | 0 | 61.27 | 63.13 |
| Yuzhno-Sakhalinsk | UHSS | UUS | 59 | 126.20 | 01/19 | 3400 | 3400 | C1 ILS | C1 ILS | SL/PI 327 | RA | 43 | 46.88 | 142.72 |
| Zhigansk | UEVV | | 295 | | 18/36 | 1800 | 1800 | NDB | NDB | V 895 | AUW | 56000 | 66.80 | 123.37 |