Airports of China
Information on Chinese airports is somewhat sparse since Chinese authorities only officially release data on their international aiports.
| | |
| --- | --- |
| | By contrast, the domestic airports are kept a closely guarded secret with pilot type data only made available through the national flag carrier, Air China. Add to this, the fact that the Chinese are building new airports at an astonishingly high rate, and a situation is created in which it is actually quite difficult to provide completely full picture of Chinese airport infrastructure. That said, a combination of Wikipedia, Google Earth, and pure detective work has enabled a significant amount of |
information to be collected, and this is presented in the two tables below. The first table shows airports that are operational. The second table shows airports under construction.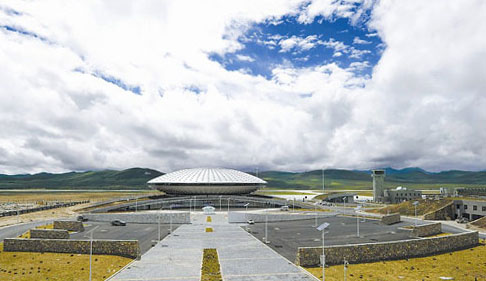 The Chinese have built, and continue to build, airports in very challenging locations. For example, they have sliced the top off a mountain to build Pan Zhi Hua (ZUZH/PZI), shown in the photo above. They have the highest altitude airport, Daocheng Yading (ZUDC/DCY) at 14,469ft, shown in the photograph to the left. It might look as though an alien spaceship has just landed there, but this is the upper part of the somewhat funky terminal building. As with most high altitude airports, Daocheng has a long runway - at 4200m, it is still someway short of China's longest which is Qamdo Bangda's (ZUBD/BPX) at 5500m.
| | |
| --- | --- |
| | The photograph on the left shows the new terminal at Kunming Changshui (ZPPP/KMG), which opened in June 2012. |
Hechi Jinchengjiang Airport (ZGHC/HCJ), shown below is one of the more recently commisioned airports in China. It serves the city of Hechi in Guangxi Zhuang Autonomous Region, China. It is built on the Jiantang Mountain, in Hechi Town, Jinchengjiang District, 40 km from the city centre. With an elevation
| | |
| --- | --- |
| | of 677m, it is the highest airport in Guangxi. Owing to the lack of flat land in the region, more than 60 hilltops were leveled to create the runway. Construction began on 3 Dec 2008 with a total investment of 850 million yuan, and the airport was opened on 28 August 2014. |
This page was last updated on the 18th October 2019.
Table of Chinese International and Domestic Airports
The table below draws information from numerous sources. The table can be sorted by Airport Name, ICAO code, IATA Code, Elevation, LDA1/2, Latitude or Longitude by clicking on the respective column heading. Clicking on the ICAO code link will open up the location in Google Earth. (This latter function now also work on the Ipad.). The RF column shows either the Rescue Fire Fighting category, or the ICAO airport code.