Introduction (New maps released 20th Jun 2018)
This site provides charts for commercial pilots to aid situational awareness. These charts show the locations and facilities of all airfields worldwide that are capable of handling commercial jet aircraft. For each geographical area, primary information is provided on a map, with supplementary data shown in an adjacent table.
The maps (example below) show, for each airfield, the ICAO code, local beacon, best IFR approach, H24 availability and number of runways. The maps also show distances between neighbouring airports, selected airways, national borders and some geographical features.

The tables (extract below) supplement the maps by giving more specific information about the runways (direction, landing distance, width, bearing strength, IFR approach), and also airfield facilities (Rescue Fire Firefighting category, availability of jet fuel and customs, ATIS frequency).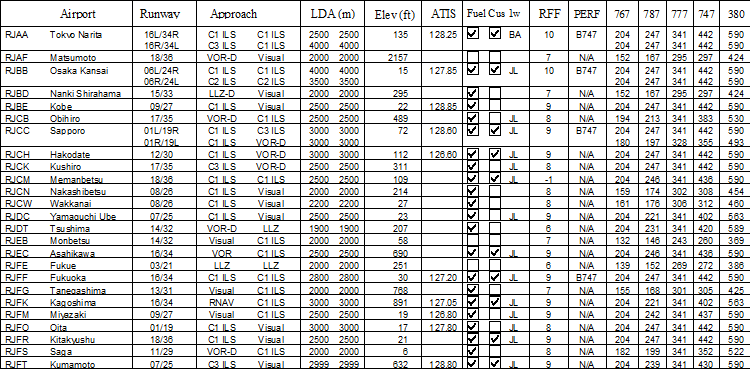 Diversion Scenario
These charts are primarily aimed at commerical pilots, to increase situational awareness during the flight. Happily, at least 99% of flights arrive at their intended destination. However, occasionally the outcome is different, be it due to some technical or passenger related problem en-route, or weather or congestion at destination. Hence, knowledge of what alternate airfields are available during the flight is highly desirable. These maps will allow pilots to gain a fairly detailed picture of the facilities around them throughout the course of the flight. They also enable a quick assessment of the options available, if a diversion becomes necessary, in what will almost certainly be an already busy flight deck.
Once it has been decided that a diversion becomes necessary, the first port of call in most modern airliners would be blue circles on the HSI moving map display with ICAO 4 letter codes. On types such as the 757 these merely indicate the presence of a runway in excess of 1500m. No other information is given. Also, the coverage is probably less than 70% of what is really down there. Items we would like to know about would include the length, number and bearing strength of runways. Also what type of instrument approach is available. Is the airport open? Does it have fuel and/or customs? Other factors which are more operator specific, but no less important, would include availability of airfield charts and airfield performance data on board. To this it would also be advantageous if one's own airline, or alliance member (eg oneworld) was a regular visitor.

To answer all these questions could involve reaching for a multitude of manuals at a time of probable high workload. Hence these maps. All these questions are answered by referring to this one document. These maps cover the entire globe, and are grouped into areas, namely Europe, Americas, Asia, Australia/Pacific and Africa.
The charts are updated several times a year. You can follow us on twitter which is the medium in which information on new releases will be promulgated. There will be a presence on Facebook where you can make comments or suggestions. To send an email, click here.
New in September 2015, is a page about CPDLC, gleaned from personal experience of using it on the Boeing 787 Dreamliner, and also by collating information from various sources and putting it together in one place.
The author, Neil Scarrow, is a Captain Boeing 787 Dreamliner with a major European airline.